Posts for: April, 2020
By George H Johnson, Jr., DDS, FAGD
April 20, 2020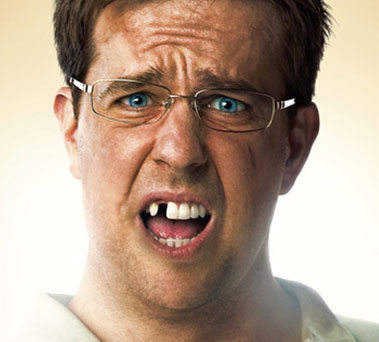 Ed Helms is best known for his role as the self-absorbed, Ivy League sales rep, Andy Bernard, on television's The Office. But to millions of fans he's also Stu, a member of a bachelor trip to Las Vegas in the 2009 movie The Hangover. In it, Stu and his friends wake up from a wild night on the Strip to find some things missing: the groom-to-be, their memories and, for Stu, a front tooth.
In reality, the missing tooth gag wasn't a Hollywood makeup or CGI (computer-generated imagery) trick—it was Ed Helm's actual missing tooth. According to Helms, the front tooth in question never developed and he had obtained a dental implant to replace it. He had the implant crown removed for the Hangover movie and then replaced after filming.
Helms' dental situation isn't that unusual. Although most of the 170 million-plus teeth missing from Americans' mouths are due to disease or trauma, a few happened because the teeth never formed. While most of these congenitally missing teeth are in the back of the mouth, a few, as in Helms' case, involve front teeth in the "smile zone," which can profoundly affect appearance.
Fortunately, people missing undeveloped teeth have several good options to restore their smiles and dental function. The kind of tooth missing could help determine which option to use. For example, a bridge supported by the teeth on either side of the gap might work well if the teeth on either side are in need of crowns.
If the missing tooth happens to be one or both of the lateral incisors (on either side of the centermost teeth), it could be possible to move the canine teeth (the pointy ones, also called eye teeth) to fill the gap. This technique, known as canine substitution, may also require further modification—either by softening the canines' pointed tips, crowning them or applying veneers—to help the repositioned teeth look more natural.
The optimal solution, though, is to replace a missing tooth with a dental implant which then has a lifelike crown attached to it, as Ed Helms did to get his winning smile. Implant-supported replacement teeth are closest to natural teeth in terms of both appearance and function. Implants, though, shouldn't be placed until the jaw has fully developed, usually in early adulthood. A younger person may need a temporary restoration like a bonded bridge or a partial denture until they're ready for an implant.
Whatever the method, there's an effective way to restore missing teeth. Seeing us for an initial exam is the first step toward your own winning smile.
If you would like more information about restoring missing teeth, please contact us or schedule a consultation. To learn more, read the Dear Doctor magazine article "Dental Implants."
By George H Johnson, Jr., DDS, FAGD
April 10, 2020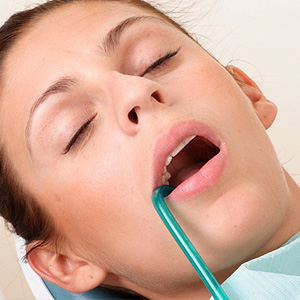 Dental visit anxiety is a serious problem: Half of all Americans admit to some level of dental fear, while 15% avoid dental care altogether due to acute anxiety. The harm this can cause to dental health is incalculable.
But dentists have a number of sedation techniques that can relax anxious patients and allow them to receive the care they need. Although often used together, sedation is slightly different from anesthesia, which aims to deaden pain sensation. The aim of sedation is to calm the emotions and state of mind.
Sedation isn't a new approach: Physicians have used substances like root herbs or alcohol to relieve anxiety since ancient times. Modern dentistry also has a long history with sedation, dating from the early 1800s with the first use of nitrous oxide gas.
Modern dental sedation has expanded into an array of drugs and techniques to match varying levels of anxiety intensity. At the milder end of the scale are oral sedatives, taken an hour or so before a dental appointment to produce a calmer state. This may be enough for some patients, or it can be used in conjunction with nitrous oxide.
For those with more intense anxiety, dentists can turn to intravenous (IV) sedation. In this case, the sedative is delivered directly into the bloodstream through a small needle or catheter inserted in a vein. This causes a quicker and deeper reaction than oral sedatives.
Although similar to general anesthesia, IV sedation does differ in significant ways. Rather than unconsciousness, IV sedation places a patient in a "semi-awake" state that may still allow them respond to verbal commands. And although the patient's vital signs (heart rate, breathing, blood pressure, etc.) must be monitored, the patient doesn't need breathing assistance as with anesthesia.
There's one other benefit: The drugs used often have an amnesic effect, meaning the patient won't remember the treatment experience after recovery. This can be helpful in creating more pleasant memories of their dental experience, which could have its own sedative effect in the future.
Whether oral, gas or IV, sedatives are a safe and effective way to calm dental fears during treatment. That could help someone with anxiety maintain their oral health.
If you would like more information on reducing dental anxiety, please contact us or schedule an appointment for a consultation. You can also learn more about this topic by reading the Dear Doctor magazine article "IV Sedation in Dentistry."