Posts for: July, 2017
By George H Johnson, Jr., DDS, FAGD
July 21, 2017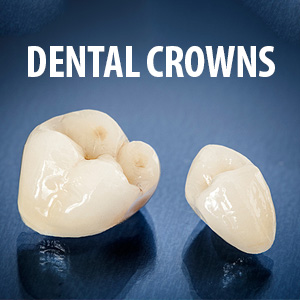 So, you're about to have a tooth capped with a crown. Do you know what you need to know before you undergo this common dental procedure?
Here's a short true or false quiz to test your knowledge of dental crowns.
All crowns are the same. False — while all crowns have the same basic design — a life-like prosthetic tooth fitted over and bonded or cemented to a natural tooth — their compositions can vary greatly. Early metal crowns consisted mainly of gold or silver and are still used today. Porcelain-fused-to-metal (PFM) crowns — a metal interior for strength overlaid by a porcelain exterior for appearance — became popular in the latter 20th Century. Although still widely used, PFMs have been largely surpassed by newer all-ceramic materials that are stronger than past versions.
Crowns can differ in their artistic quality. True — all crowns are designed to replicate a natural tooth's function — in other words, enable the tooth to effectively chew again. But a crown's appearance can be a different story, depending on how much attention to detail and artistry goes into it. The higher the individual craftsmanship, the more lifelike it will appear — and the more expensive it can be.
With digital milling equipment, dental labs are obsolete. False — although technology exists that allows dentists to produce their own crowns, the equipment is not yet in widespread use. Â The vast majority of crowns are still produced by a trained technician in a dental laboratory. And just as you base your choice of a dentist on your confidence in and respect for them, dentists look for the same thing in a dental lab — good, reliable and consistent results.
Your insurance may not cover what your dentist recommends. True — dental insurance will typically pay for a basic, functional crown. Aesthetics — how it will look — is a secondary consideration. As a result, your policy may not cover the crown your dentist recommends to function properly and look attractive. A new crown, however, is a long-term investment in both your dental function and your smile. It may be well worth supplementing out of pocket your insurance benefit to get the crown that suits you on both counts.
If you would like more information on crown restorations, please contact us or schedule an appointment for a consultation.
By George H Johnson, Jr., DDS, FAGD
July 06, 2017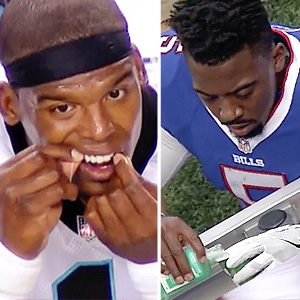 Everyone knows that in the game of football, quarterbacks are looked up to as team leaders. That's why we're so pleased to see some NFL QB's setting great examples of… wait for it… excellent oral hygiene.
First, at the 2016 season opener against the Broncos, Cam Newton of the Carolina Panthers was spotted on the bench; in his hands was a strand of dental floss. In between plays, the 2105 MVP was observed giving his hard-to-reach tooth surfaces a good cleaning with the floss.
Later, Buffalo Bills QB Tyrod Taylor was seen on the sideline of a game against the 49ers — with a bottle of mouthwash. Taylor took a swig, swished it around his mouth for a minute, and spit it out. Was he trying to make his breath fresher in the huddle when he called out plays?
Maybe… but in fact, a good mouthrinse can be much more than a short-lived breath freshener.
Cosmetic rinses can leave your breath with a minty taste or pleasant smell — but the sensation is only temporary. And while there's nothing wrong with having good-smelling breath, using a cosmetic mouthwash doesn't improve your oral hygiene — in fact, it can actually mask odors that may indicate a problem, such as tooth decay or gum disease.
Using a therapeutic mouthrinse, however, can actually enhance your oral health. Many commonly available therapeutic rinses contain anti-cariogenic (cavity-fighting) ingredients, such as fluoride; these can help prevent tooth decay and cavity formation by strengthening tooth enamel. Others contain antibacterial ingredients; these can help control the harmful oral bacteria found in plaque — the sticky film that can build up on your teeth in between cleanings. Some antibacterial mouthrinses are available over-the-counter, while others are prescription-only. When used along with brushing and flossing, they can reduce gum disease (gingivitis) and promote good oral health.
So why did Taylor rinse? His coach Rex Ryan later explained that he was cleaning out his mouth after a hard hit, which may have caused some bleeding. Ryan also noted, "He [Taylor] does have the best smelling breath in the league for any quarterback." The coach didn't explain how he knows that — but never mind. The takeaway is that a cosmetic rinse may be OK for a quick fix — but when it comes to good oral hygiene, using a therapeutic mouthrinse as a part of your daily routine (along with flossing and brushing) can really step up your game.
If you would like more information about mouthrinses and oral hygiene, contact us or schedule a consultation.